Problem: You need an accountant, but you haven't got any money to pay for one. What can you do? If you have a friend who is an accountant, you could ask her or him to do your accounts for you. But is that fair* without giving something in return? Barter is probably the oldest form of paying for things without money changing hands. If you do my accounts, I'll repair your electrics. A simple exchange.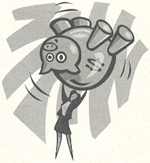 However, this has its limitations. Imagine the electrics in your friend's house don't need repairing, and what your friend needs is some t-shirts printed. Solution: join a barter club. In these clubs, members offer and receive goods and services from other members. However, 'payment' is not made in pesetas, but in a parallel currency, decided by the members. This usually has parity with the local currency, bs it dollars, pounds or pesetas, although some systems are based on hours and minutes. In some clubs, al! 'no money' changes hands and members' accounts are simply credited or debited on computer. In other clubs, this parallel currency is printed, and members pay for goods and services like with real money. This is the case of the barter club in Zarautz, founded by Eduardo Torn cos o, who arrived there from Argentina in 1997. Later, similar clubs were started up in Vitoria, Pamplona and throughout the peninsula, and there is interest in forming similar organisations in Bilbo and Donostia. The Zarautz club uses the nodin (no dinero) as its currency. Iris, fondones, bies and foros are names used in other associations. The nodin can only be used for payment between club members, and is equivalent to a peseta. In the words of member Eduardo Mugertza, the system "is complementary, not alternative. The idea is to make barter easier, can be seen as a way of saving on certain products."
The group produces a catalogue which lists all the services offered by members, as well as establishments which accept nodinea as payment. This includes a baker, a t-shirt company, a gynaecologist, a homeopathic doctor, accountants, decorators etc. The system is more than just a way of getting things done "on the cheap". Clubs like these work especially well in areas where there are economic problems, for example where there is a shortage* of 'formal' employment. Everybody has something to offer - looking after children, giving private classes, cleaning etc. Organisations like this help to give people self-esieem. Similar groups exist throughout the world, but it is perhaps in Argentina where its success has been most spectacular. 80% of the people there use this system, and in some municipalities, people can pay taxes in nodines. Eduardo Mugertza realises that time is needed for the system to be fully accepted, "At first, people find it hard to understand, they think it is some kind of revolution, that we want to replace the market." The group in Zarautz has some 50 members. "Although there are still few of us, we want to grow bit by bit. We've given talks to university students, and one of our ideas is to organise something for the next Summer Courses in Donostja."