Editorial
Dear Readers,
Sunnier weather has put smiles on the faces of the people, and we notice how the days are, little by little, getting longer.
For the editors of this magazine, the days get longer and longer as the deadline for printing gets nearer, and finally panic sets in as we realize something hasn't been checked, somebody hasn't been contacted, or some article hasn't been finished. On top of the 101 other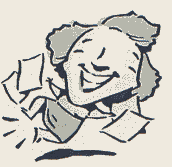 Apdo de Correos 3397, 01002 Vitoria-Gasteiz. e-mail: news@guggenheim-b.com tel: 606 152 091. Our sources for the articles that appear in "Gugenheim News!" this month have been the following. El Correo, El Mundo, Gara, El Periodico de A lava. El Diario de Navarra, El Diario Vasco, www.humor.com, and as always readers and friends who have passed on interesting things!
things that go wrong at the last minute, like the computer rejecting the existence of a scanner, or just refusing to do what you want it to. (Technology is supposed to make life easier for us, isn't it?). But, in the end, solutions are found, and here you are, reading issue number five of Read All About If and thinking, "I could write something better than that!" So please, put pen to paper - or fmger to keyboard - and send us a letter with your opinions. And if you haven't got time to write, don't worry - just enjoy reading! The Editors.