Editorial
Dear Readers,
Hello again! Or if you are a new reader, welcome to 'READ ALL ABOUT IT!', the magazine that tells you all the month's most interesting news in English.
As we believe that studying English should be a fun activity, in this month's number we have tried to include more jokes than in previous numbers. We have discovered that if you look on the internet and enter pokes' into a search programme you can find hundreds of pages that contain jokes and humourous stories in English. If you have access to the net try it and add some humour to your studying!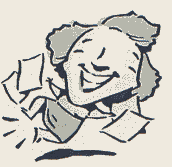 This month the 1,200 visitors who surfed our journal on the web have increased in number with our addition of Bizkaia, Gipuzkoa and Navarra.
Last month we asked which N.G.O (ONG) you would give 0.7% of RAAI! 's proceeds to. We have received some suggestions but we need more! Send us your ideas together with your competition entries and next month we will announce the 'winner'. Enjoy reading this issue!
The Editors. Apdo de Correos 3397, 01002 Vitoria-Gasteiz. e-mail: news@guggenheim-b.com tel: 606 152 091.
Our sources for the articles this month were the following; El Cffrreo, ElMundo, Gara, El Diario de Navarra, El Diario Vasce, El Perlodico de 4lava, DEIA, El Pais, Muy Interesante, n'ww.humor.com, clean jokes (membefs.tripffd .corn) and as always, readers and friends who have passed on interesting things!