Editorial
Dear Readers, Happy New Year to all of you! This is'm typed with fingers crossed -which is a little difficult! - on the last day of 1999, so if you are reading this now then you know the horrors of the year 2000 haven't affected production of your favourite (!) English-language magazine. A warm welcome to everyone new to our magazine.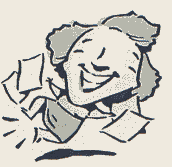 This month the 1,200 visitors who surfed our journal on the web have increased in number with our addition of Bizkaia, Gipuzkoa and Navarra.
. Finally, we hope you have escaped the viruses which have attacked so many in recent weeks, and that your batteries are recharged after a few days holiday. Don't worry, Easter will soon be here! The Editors. Apdo de Correos 3397, 01002 Vitoria-Gasteiz. e-mail: news@guggenheim-b.com tel: 606 152 091. Our sources for the articles that appear in "Gugenheim News!" this month have been the following. El Correo, El Mundo, Gara, El Periodico de A lava. El Diario de Navarra, El Diario Vasco, www.humor.com, and as always readers and friends who have passed on interesting things!