Lots of Toys to See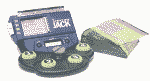 Preschool Toys
DUPLO Basic Tubes Set
by LEGO Systems, Inc

LEGO preschool toys are specially designed for little fingers and developing abilities. The Primo line gives newborns through kids up to age 3 a workout on stacking, cause and effect, and dexterity. The Duplo line, created with kids ages 2 to 6 in mind, adds a new dimension to creative play. Bonus: Primo and Duplo elements can be used together, so LEGO preschool toys "grow" with your kids. See more LEGO preschool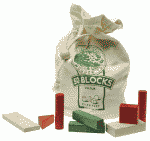 Name: Block Pride and joy: Chip Turn-ons: Towers, walls, block parties Turn-offs: Earthquakes
Hello! Enjoy 100% risk-free shopping at Amazon.com Toys.
Gems from Small Toymakers
Recomendación
Ball Chute
by Selecta
Three 18-inch, sloping, grooved ramps are attached to a 5.5-by-13-inch backboard slotted into a 6-by-4.5-inch base to create the Ball Chute. A fourth 10.5-inch ramp, attached to the backboard, completes a 3.5-by-2-inch corral that sits on the base. Red and blue balls are released when a short piece of wood is tilted away from the top ramp. When the balls roll, the fun begins: a clown swings on the second ramp, and five colorful balls jingle on the third ramp. As each ball enters the corral past a silver bell, it sets off a beautiful chime. Your infant will enjoy watching the balls released repeatedly. Sight, sound, color, action; this cause-and-effect toy has it all. Use by children under 3 requires supervision. --Sandy Hirsch
Educational Objective: cause and effect, sensory stimulation, colors

Edu Tile Uppercase Letters
by Edushape Ltd

Educational Objective: Letters, colors and shapes recognition eEdu Tile Uppercase Letters have become a tradition in homes that believe in teaching and playing at the same time. The letters often become a family treasure for toddlers and young children. For parents, they are a great play mat--especially in the presence of wood floors. Edu Tiles provide a clean play space that's safe for kids just learning how to crawl or walk. Part of the Edushape line of toys, Edu Tile Uppercase Letters are made of washable foam and are colorful, colorfast, and nontoxic.


Today's Toy
Sega Dreamcast Console (Dreamcast). The Dreamcast system is, in a word, awesome. Really, it inspires awe. The first time someone fires up the game Soul Calibur and realizes that the graphics and gameplay are better than the arcade version, they're likely to faint. And Sonic Adventure, with its lightspeed gameplay, is sure to wow even the most jaded gamer--one part of the game consists of a richly detailed 3-D racetrack suspended in the funnel of a raging tornado! If you are thinking of buying your kids a playstation or nintendo 64 stop and think about the DREAMCAST. Both of the older systems only have about a year left and so it means spending more money on a playstation 2 when you can spend less on an extremely great system. .
Hide-Me Tent & Tunnel Combination v
by Pacific Play Tents
This tent and tunnel set fills the desire of both kids and parents perfectly--a safe place to play that fulfills the need for adventure. The tent is 48 by 48 by 42 inches. It has an attachable 4-foot long, 19-inch diameter tunnel that is constructed of spring steel with a nylon cover. It will attach to the front or side windows of the tent. The tent has a T-style door for easy access and is constructed from 70 denier nylon walls; a durable polyethylene floor and sturdy shock-corded fiberglass poles support the walls. Each window has a roll-up door flap with Velcro closures. Tent and tunnels can be used separately

Learning.

Skill Set Description: Motor skills, cooperative interaction Educational Objective: Interactive play, imagination
Playtime Picks from Fisher-Price
Top Sellers: Fisher-Price
Classics manufactured during the 60's are still part of the Fisher-Price line, including Little People. Today, Fisher-Price is known for their high-quality plastic and soft toys, licensed products, and, of course, a whole new line of Little People.

Snoopy Pull Toy by Fisher-Price
The Fisher-Price Story Fisher-Price began in 1931 as a partnership between Herman G. Fisher, Irving Price, and Helen M. Schelle. They presented their first line of toys at the 1932 toy fair, but the company struggled until sales of the Snoopy Sniffer finally pushed them into the black in 1938. During World War II, Fisher-Price contributed to the war effort by halting toy production and instead manufacturing medicine chests and other necessities. The post-war years and decades following brought record growth and greater household recognition for Fisher-Price: twice as many toys were produced during the 1960s than had been in the previous 30 years.
Star Wars Episode I 3D Puzzle: R2-D2 Build your own droid? You might think you were born too late or in the wrong galaxy for such a thing, but with the Puzz 3D R2-D2 you can get close enough, and experience the challenge, too. Its 708 foam pieces all seem to look alike at first, but after a bit of sorting and observation the path soon becomes clear. Getting the 12- by 12- by 18-inch droid together takes some careful work, though--the soft pieces fit together much more easily than cardboard, even when they're not supposed to! A nice bonus feature is a battery-operated voice box (set underneath R2's center leg) that beeps and whistles just like everyone's favorite robot.

Star Wars Episode I Micro Machines Pod Launcher with Pod Racers.
by Hasbro
This pair of podracers comes with two spring-action launchers, so Star Wars: Episode I, The Phantom Menace fans can re-create one of the most exciting scenes from the movie. Gasgano's green and silver podracer and Teemto's taupe and aqua podracer can be launched side by side for a high-action race. Or children can place the podracers face to face for a head-on collision. The toys fit easily into their launch pads and will instantly zoom off when a rear button is pressed. The launchers also work with any of the other Micro Machines podracer vehicles.


Fun Stuff
Wise and Otherwise Party Game
by Wise and Otherwise Inc.
Voted Best Party Game of the Year, 1998, by Games Magazine, Wise and Otherwise belongs next to Pictionary and Scrabble in your arsenal of fun. This creative, interactive game (read: everybody shouting, flailing, laughing) revolves around 500 cards, each emblazoned with five obscure and long-forgotten sayings from around the world.For example, one old Chinese saying is, "Don't add salt to a boatload of salt fish." One side of the card states, "Don't add salt to..." and it is the job of the players to devise probable endings.

Electronic Hand-Held Mastermind Game
by Hasbro
With the pocket-size Electronic Hand-Held Mastermind you can stand up to the Mastermind challenge no matter where you are. You have 10 guesses to outsmart Mastermind. The computer comes up with a secret code of four colors (six colors in Level 2 play) displayed in a specific arrangement. With each guess, the key indicates how many colors you have guessed correctly and how many colors are in the correct order. You narrow the possibilities as you continue to make guesses. A game consists of five rounds of play. (Ages 8 and older)
Wave Rider Elmo
by Tyco Preschool
Sesame Street just made bath time even more fun with this 8-inch buoyant bathtub toy. An adrenaline-pumped Elmo bounces atop his colorful wave runner, ready for wind-up action. With inset wheels below and a propeller at the rear, the wave runner is equipped for land or sea. Wind up the side knob and release the toy on a hard surface or water.

Crayola Model Magic Color Variety Pack
by Binney & Smith
This spongy, pliable modeling clay offers children an ideal introduction to the art of sculpting, pottery, and clay animation. The kit comes with an inspirational instruction sheet showing pictures of a Model Magic school diorama, robot, bracelets, airplane, doll tea service, and other creations. Since it dries on its own within 24 hours, there's no need to fuss with oven baking or kiln firing.